About Olympic Athletic Club
Olympic Athletic Club is honored to cater to the residents of Ballard and the neighboring areas in a relaxed, yet undeniably premium ambiance. The architectural style of Olympic Athletic Club mirrors the Old-World charm of Ballard. This former 1890s hotel has been transformed into a cutting-edge facility that effortlessly blends a welcoming atmosphere with top-notch quality. As Seattle's foremost athletic club, we provide access to the most advanced cardiovascular and weight training equipment, an array of aquatic activities, diverse group fitness classes, and even a basketball court.
Olympic first opened its doors in 1979 and has since grown to become the top health club in Seattle. As we have grown over the years, we have established an identity that is very definable. The Club is a very comfortable place where members can be themselves. We have always been committed to provide a clean and well-maintained atmosphere with a staff that is friendly and accommodating. At Olympic Athletic Club, it is not about who you are, how you dress, or what you look like. Instead, it is about the one thing that actually matters the most, your health. People of all ages come to the club to exercise and achieve their health and fitness goals.
Olympic Athletic Club occupies a classic 1890's brick building located in historic downtown Ballard. The charm of the original architecture, including the large windows, exposed brick, and high ceilings provide a spacious, unique, and comfortable setting. The building itself has had a colorful history and many incarnations. From its early days as a hotel and the first Ballard Post Office, a speakeasy and card room during prohibition, and, later, a bank and an Elks club, its walls have a million stories it could tell.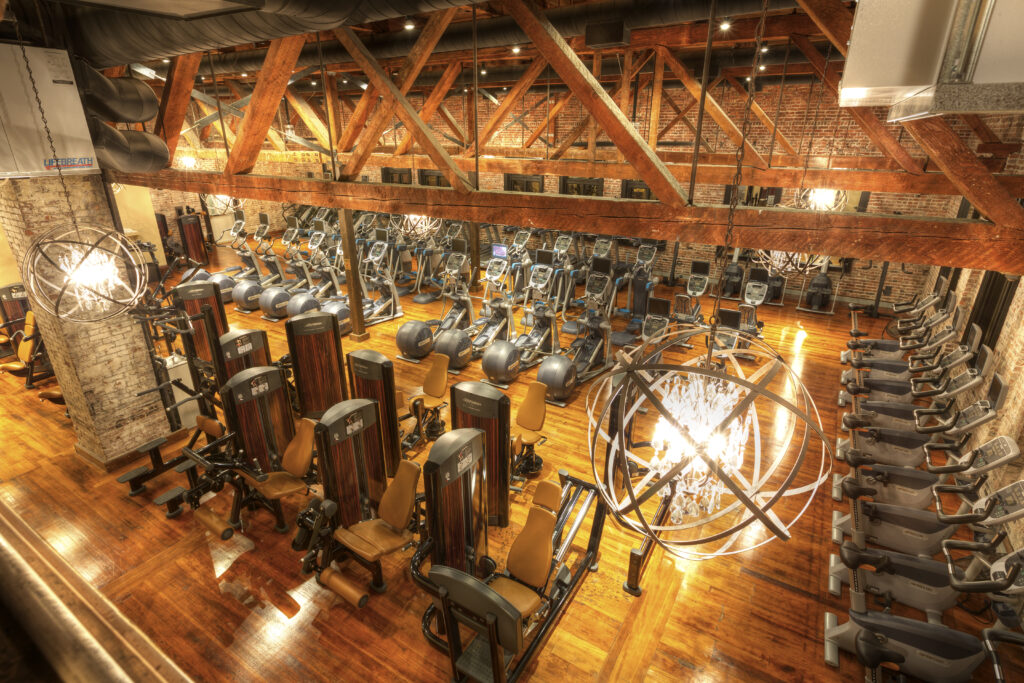 Olympic Athletic Club offers the latest in cardiovascular and functional and strength training equipment, an extensive variety of group exercise classes, two swimming pools, court sports, and locker rooms with spa-like amenities, including men's and women's private steam rooms, saunas, and hot tubs.

The most unique aspect of the club, has been its continued connection and service to the community. A local gathering place for over 100 years, Olympic continues the tradition by providing state-of-the-art facilities with a variety of amenities, activities, and services for people of all ages.
Frequently Asked Questions
If you have a question that hasn't been addressed in our FAQ, please don't hesitate to contact us, and we'll be happy to assist you.
Best health club, hands down! 2 Pools, spa-like amenities, always updating equipment and offerings to have the best & most up-to-date options for their customers. They've done a great job taking care of this place- always growing & expanding. Membership price is fair for what you get.
Perhaps the best gym I've ever been a member of. Was here for 1 year and was bummed to leave this gym. They've recently renovated most of the gym, which is awesome. Tons of space for free weights, plenty of machines. The free parking is a great perk.
This place is huge! Lots of different rooms with over 3 levels of exercises equipment, pools, free weights, and sauna in the bathroom 🚻.
Love the free classes included in membership-
Staff was super friendly and helpful 🙏
Great club! I love the ambiance here, which may not be the main reason some choose a gym, but I need all the help I can get ;). Warm towels, exposed brick & beams, hardwood floors, and the sauna/steamroom/jacuzzi options keep me coming back as much as the great classes and equipment.
Just share your name, email, and phone number, and we'll be in touch to help you get started.